The building Beogradska 21 consists of three underground and eight above-ground floors. On the -3 floor, there is a garage and a SPA center with a gym, Turkish bath, sauna, and swimming pool.
The ground floor is intended for commercial space, while all above-ground floors are residential. The building has a total of 24 residential units and one office space on two floors, with a total area of 300m2.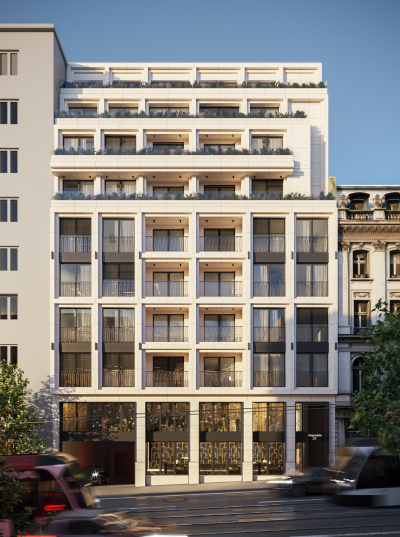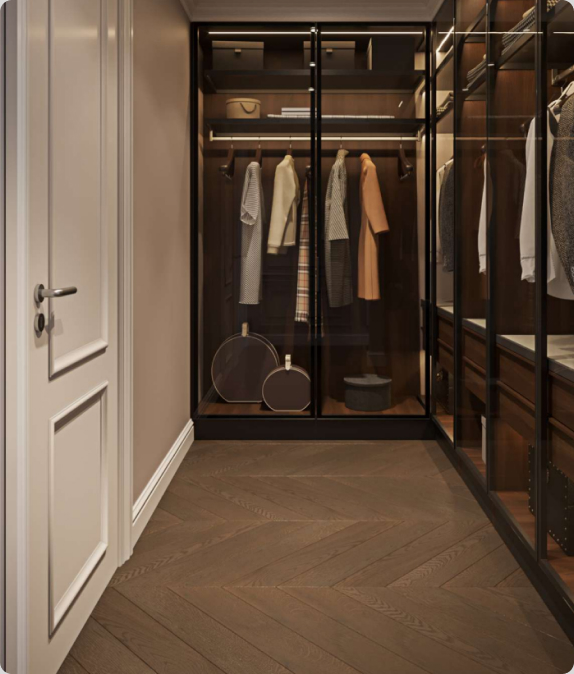 Building Materials
High-quality Brač stone is known worldwide for its unique structure and beauty. This stone represents the soul of the island of Brač and has been used in some of the most significant buildings of the past, such as the White House, Diocletian's Palace, the Papal Altar in the Vatican, and many others. Brač stone has been used in construction for thousands of years and is considered an "eternal" material. In addition to its incomparable appearance, Brač stone offers uniqueness. Stone is a natural material and adds value to your home in terms of architecture, interior and exterior design, as well as in the making of furniture.
Multi-layered oak parquet, certified for underfloor heating. Natural oak color, while staining can provide various colors at an additional cost. Machine oil enhances the durability of the parquet. Dimensions of planks: 160mm x 1200-2200mm x 14mm, with beveled edges on the longer side. The skirting board is made of medium-density fiberboard, with dimensions of 16 x 60/80/120/150 x 2400mm and can be in the color of the parquet or other tones upon request for an additional fee.
External joinery: wood-aluminum, triple glazed, motorized shutters. Without parapets, with lift-slide system. We have chosen HIGH-QUALITY WOOD-ALUMINUM SLIDING SYSTEM. Modern and elegant design, with excellent sound and thermal insulation and durability.
The thermal insulation of windows is measured by the heat transfer coefficient U(k), which represents the amount of heat transmitted through 1m2 of building element in one hour. The sound insulation is expressed by the weighted sound insulation Rw in dB, determined by the insulation power R in the range of 100 to 3150 Hz. For maximum protection from external factors, safety fittings and triple glazing are necessary, while protection against glass breakage is achieved by using laminated glass that does not shatter upon impact.
The dimension of the door is 100 x 250cm, and the color and veneer can be chosen according to the RAL color chart. The door leaf for the interior doors is made of two HDF panels with a thickness of 3.3mm, with a cardboard honeycomb filling. The door frame is rounded and massive, while the door casing is made of MDF and can be designed. The door has several certifications including sound insulation and fire resistance tests.
Choose from over 200 shades of polyurethane paints and natural veneers such as oak, beech, walnut, cherry, ash mahogany, and fine line veneer for finishing MDF. You can add a personal touch to the doors by selecting finishing and application moldings, grooves or intarsia, as well as the highest quality Hoppe fittings. The doors have a grille made of box metal profiles, a 2mm partition plate, and a box-shaped metal profile frame covered with MDF. There is also a safety lock with locking in three directions and six points, three fixed bars for protection against burglary at the hinges, a sound isolator, and a polyurethane foam used to fill the gaps between the box profile of the frame and the wall.
Walls between apartments are made of solid bricks with thermal and acoustic insulation, 29cm thick, while partition walls in apartments are made of half-brick, 12cm thick. Sanitary ware and fittings are from a renowned European manufacturer, and heating is regulated by underfloor heating throughout the apartment. The apartments are equipped with ceiling air conditioning units, and have a connection for cable TV and an alarm system. Gates at the entrance open automatically and mechanically.
more in our catalogue
Garage space
The garage has a ramp for access from the road, covered at the entrance and with 44 parking spaces.
Parking spaces on level -3 are solved with car platforms on three levels, while on levels -2 and -1 there are regular parking spaces. The garage is accessed by a passenger elevator, and the spa center is directly accessible from level -3.
more in our catalogue